Wellington Place is more than just bricks and mortar, it's a thriving community powered by people. This series of interviews aims to highlight some of the people of Wellington Place, share their inspirational stories and find out why Wellington Place is much more than just a place to work…
Interview with Ian McCombie
Head of Commercial Dispute Resolution at Ward Hadaway, 5 Wellington Place
Ian has worked in the law industry for 35 years. Having trained in London for six years, been principal of his own specialist litigation law firm for 14 years, Ian then began work at Leeds-based, Ward Hadaway. Ward Hadaway is headquartered in Newcastle, with offices in both Leeds and Manchester.
What's your greatest achievement to date?
"Career-wise, I think that working as a qualified solicitor in the law industry for 35 years and still loving it to this day is a huge achievement! I am also, of course, very proud of my family – it's an old cliché, but my children are my biggest achievement above all else.
"But I am also proud of my athletic career, having competed in the 20 kilometre racewalk at the 1984 and 1988 Summer Olympics, as well as receiving two medals at the 1986 and 1990 Commonwealth Games in the 30km racewalk. I managed to set 13 British records – three of them still standing today! [Note for sports geeks: the 30km record from 1986 is 2:07:56 – just under 3-hour marathon pace].
"I first gained an interest in athletics when I was at secondary school, a place which was very enthusiastic about sport, we had won the English Schools competition at football and had individuals who achieved national level at their specialist sports.
"The heads of sport, Tony Knox then Dave Stapleton, were very keen on ensuring all pupils were given the chance to learn a variety of skills and in my first year at the school (Year 7), we tried a walking race. Out of the blue, I won the race by a mile and set a new school record in the process!
"I seemed to forget about race walking for a while and instead I competed for the school at cross country, rugby, and athletics for many years. However, when I was 14, the school entered a walking team into the City Championships, which I won. I then competed at the Northumberland County Championships three weeks later and won again. Three weeks after that, the county entered a team into the English Schools competition, and I won this as well – I realised that I had a talent and knew I had to pursue it. I have Tony and Dave to thank for my successes which followed.
"I decided to give up playing rugby competitively – I was a lean athlete, so I was getting hurt a lot. I turned all my sporting attention to walking and started training extremely hard.
"I was invited to join the national squad, and won seven junior national titles, and junior Great Britain vests – I was really enjoying getting good results from all the hard work I was putting in.
"I went on to win 27 national senior titles, 69 Great Britain vests, set 13 British records, as well as attending almost all the major Games for a decade. The record I set in Seoul at the 1988 Summer Olympics was held for 28 years! It was such an amazing experience to be a part of, and one that I am very lucky to have accomplished alongside my law career."
Tell us a little bit about what you do…
"I work for Ward Hadaway, one of the UK's Top 100 law firms and one of the longest-serving businesses at Wellington Place. I am the Head of Commercial Dispute Resolution and there are four main strands to my job role: work for clients, internal management, and new business.
"My main focus is on my work for clients, and client relations, helping to resolve contract disputes, shareholder disputes, negligence and debt claims, pursuing and defending directors, restrictive covenant claims, as well as many other fields. I advise business clients, from sole traders to multinational enterprises, always ensuring I have a thorough understanding of the business's priorities and values. I really enjoy working closely with my clients.
"In terms of internal management, I am responsible for looking after the team and helping to look after the office, whilst ensuring that everyone is happy in their working environment and dealing with any queries that may arise. We like to make sure that everyone is well looked after!
"New business outreach is also extremely important in my role, it is imperative to reach out to people who may be in the need of a lawyer or a specialist team to help them through a tough patch, or to achieve their goal. Having worked as a business solicitor in Leeds for 35 years, I think I know the Yorkshire market fairly well, so I am able to navigate my way around the business world.
What is your favourite thing about working at Wellington Place and why?
"The best thing about working at Wellington Place is definitely the closeness of the community – as soon as you step onto the uniquely-paved slabs of the business quarter you feel at home and immediately relaxed, it really has a wider-family feel to it.
"With the self-contained nature of Wellington Place, you see many familiar faces throughout the day, and it is an extremely friendly and calm space to spend not only your working day, but your leisure time. It offers a safe environment, but it also has a cohesive foundation between all businesses and staff. There are plenty of opportunities to partner with other organisations in the complex and many have worked together and are friends outside of work."
Which community events do you take part in at Wellington Place and why?
"Our team has taken part in many community events, particularly the Wellington Pacers running club, photography competitions, food events, the Pride of Place events, community walks and even expert talks.
"Ward Hadaway also won the Wellington Place Tri Challenge 2019, which was a fantastic team-building event! We also hosted our very own 'bake-off' competition, open to all professionals at Wellington Place, which was a huge success. We always support other law firm events.
"There are so many opportunities for professionals and the Wellington Place staff are fantastic in ensuring that all initiatives are creative and tap into key topical trends."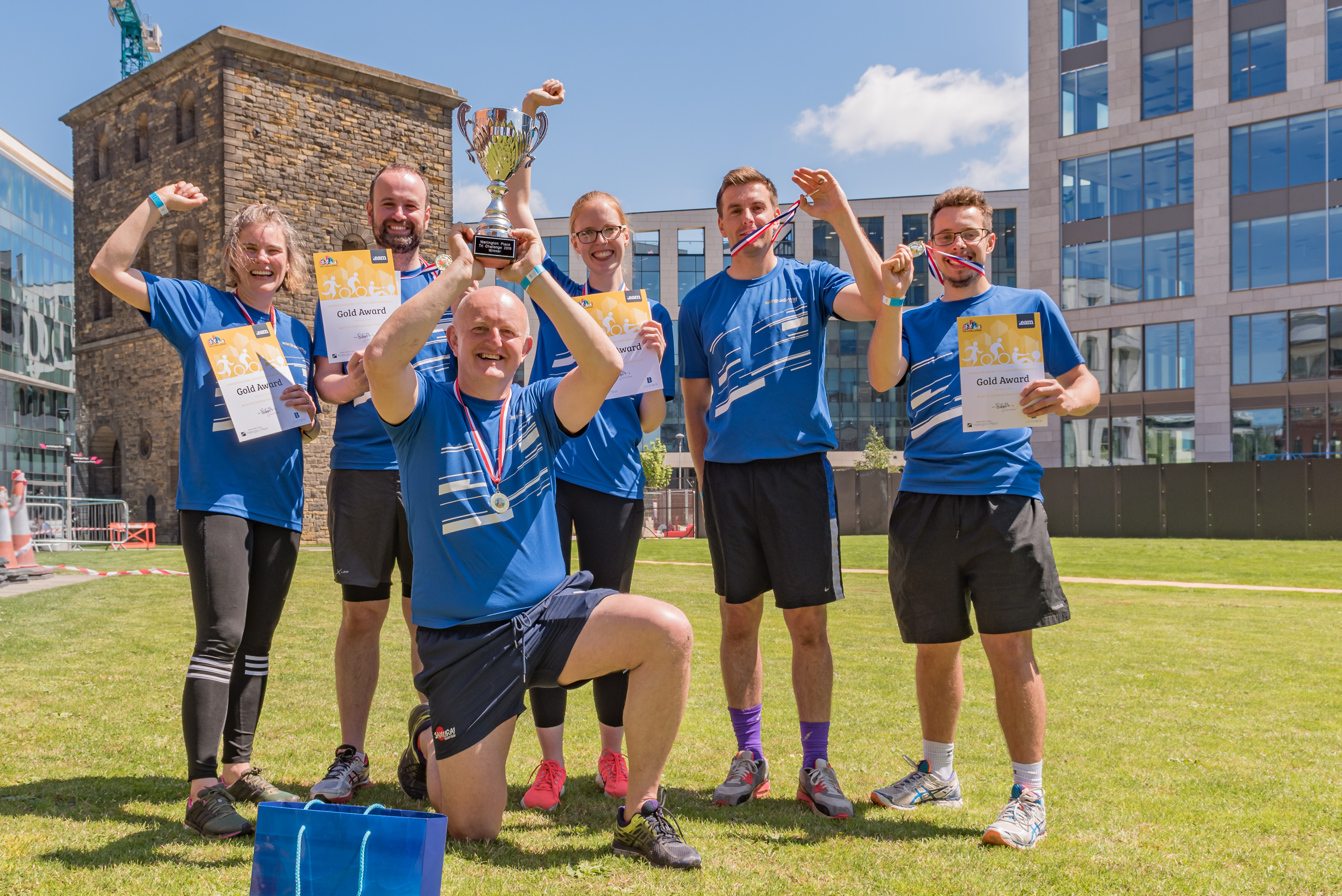 What three words sum up Wellington Place to you?
Community – It's such a cohesive place to work that you feel a sense of community as soon as you step foot on the complex.
Wellbeing – Wellington Place is an extremely healthy environment to be each day and we are very lucky to be able to work and spend our leisure time in such a friendly and warm place.
World-class – It's such a modern, diverse and forward-thinking company, I have never come across a workspace like this before, and I have worked in many locations around Leeds and London. Wellington Place crosses all sectors, it really is a true collaboration.
Thanks to Ian for taking part in the interview.
If you would like to tell your story or wish to nominate someone to take part in the People of Wellington Place series please email info@wellingtonplace.co.uk