The 6th June marks the start of Bike Week 2020, so we caught up with British Cycling Ride Leader Richard Warren for some useful tips and advice if you are considering taking to two wheels for your daily commute.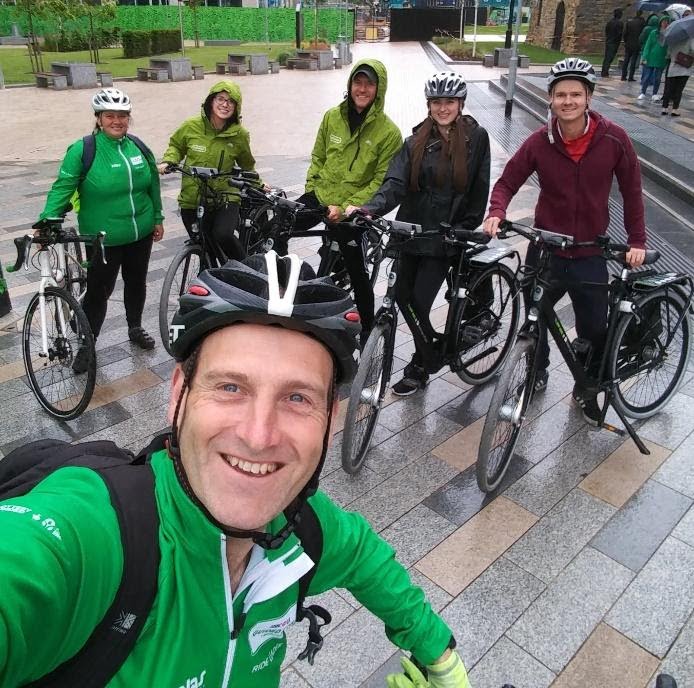 It's been a tumultuous few months, with lots of changes to all parts of life and realistically, more to come as we settle into updated patterns.  Town centres are very much deserted but we all know it cannot remain that way, so thoughts now move on to how we return.
Unfortunately, public transport has been dealt a significant blow and clearly there is also a real risk that car use could proliferate to much greater levels than before. One thing that has been demonstrated and repeated in every corner of the country, however, is humanity and empathy to each other.
This provides a key foundation for a modal shift in our daily travels.  Therefore, cycling has the opportunity to become a much greater accepted transport. Over the last two months, there has been a huge surge in leisure cycling, helped by some glorious weather and quiet roads.
So, if you think you want to consider commuting by bike let's answer some frequently asked questions and clarify a few key words you may have heard.  The below points will assume you can already ride but may not currently have a bike or never have cycled to work.
Cycle to work basics
I occasionally ride with the family, what is the difference for commuting?
Compared to leisure cycling, there is a different focus for commuter cycling in that you have a repeating, purposeful task, therefore able to improve its execution each time. This means you shouldn't be anxious about perfection from day 1 as you're going to have plenty more opportunities to tweak.  Rolling on to this, you will be rewarded with increased wellbeing and a feeling of achievement.  As a bonus, the repetitive nature reduces the comprehension of time and effort!
How far is reasonable to cycle to work?
There's no need to be supercilious about distances, we're just trying to get to work.  I understand that the local authorities target utility cycle use at around 3 miles.  The consensus I've experienced is that around Leeds, 6 miles is a 'standard' reasonable commute distance (potentially due to the transport alternatives).
Therefore, if you work in Leeds city centre and live within or just beyond the Outer Ring Road, then distance (excluding other factors) is attainable for the majority.
The thing to remember about Leeds is that on the whole, your journey is likely to be downhill towards work and uphill going home.  The hills do deter some, but realistically it helps when it comes to commuter cycling. This is because arrival reliability and composure can be achieved. The home return can become effort driven or treat yourself to a leisure ride with detours or an evening meetup.

How would I keep my bike safe?
Insurance for you and your bike is very cost-effective.  There are specific cycle insurances available on the market.  However, do check household insurance supplements which are usually very cost-effective add-ons.
Most insurances require bikes to be locked to a permanent structure. For your home, investment in bike anchors which screw/bolt to a wall or floor to lock them to is very cost-effective.  Sheltering your bike is also necessary, which could be a simple cover or useful bike tent at the budget end with shed type structures taking the premium market.
Similar facilities need to be available near the workplace (but do confirm there are permanent structures to lock the bikes to in order to validate insurances). If you work at Wellington Place, you can store your bike in the outdoor Cycle Pods or in the basement cycle parking under the buildings. If facilities are not available at your work, refer to your public authority; business grants are available from time to time to support the acquisition of these facilities.
Personal liability cover and legal cover (i.e. damage you may cause or support claiming in an accident) is also a strong recommendation. The typical option is to start a membership with a major group such as British Cycling or Cycling UK as they include insurance and legal cover.  These groups typically also bundle in other offers too which could help you save on other purchases, therefore covering the cost of membership.
What are the best trousers for cycling?  Which coats are best for cycling?  What kind of shoes do I need to cycle?  What sort of bag do I use for cycling?
First off, chill!  On fair weather days, loose-fitting casual clothes are completely normal – as demonstrated in many European countries.
For rides greater than 30 minutes, cycling shorts provide padding which improves comfort and can be worn under standard shorts.  Generally though, tight-fitting cycling kit is chiefly to address aerodynamics, which realistically only starts to be exponentially noticeable from around 15mph, but for now, can be something for later discovery.
Rain protection can be addressed in two ways, waterproofing or fast wicking change of clothes.  Waterproofing tends to induce sweating and once wet, takes longer than a working day to dry.  Cycling designed waterproof clothing addresses some shortcomings and do tend to last longer making their premium price tags effective over time.  However, do check out waterproof over-clothing from popular discount DIY centres, they can be very cost-effective and reliably water resilient options.
When starting out, cycling shoes are not really a consideration.  These target performance at the expense of convenience and cost, therefore, allow these to be something discovered at a later time.
Ignoring luggage options attached to the bike, backpacks are useful.  Sweating is a key issue with backpacks as it stops airflow.  Therefore, look for those with airflow padding which reduces contact points with the body.  Rain guarding can be very expensive with bags, but waterproof overprotectors are cost-effective and transferable.

Acquiring a bike
What is the Cycle to Work Scheme?
In simple terms, your employer purchases your chosen bike/accessories then a negotiated monthly amount is deducted from your pay each month before tax.  Upon reaching an arranged date, you typically pay a final small lump sum and now own the bike outright. The overall effect produces significant savings if you pay tax through PAYE.
There are lots of scenarios that could be relevant to yourself, so full details can be found on the Cyclescheme website.  However, some of the key points are:
Your employer must be enrolled in the scheme. This doesn't take long and the scheme offers low-interest loan options so as not to affect cash flow.
Once commenced, you do have a legal agreement to pay. So, if the bike is stolen or you leave employment, full payment is still required.
It's not just bikes!  You can (and should) buy any necessary cycling equipment which supports your commuting journey.  In fact, if you have a bike but just need accessories to support your journey, then simply arrange those.
You are in control of the purchase decision, albeit needing employer approval.  However, the shop being used must accept Cyclescheme purchases too and might only apply to full price items rather than clearance. Find a cycle shop with the Cyclescheme.
What are all the different types of bike?
The number of variations and names for the variations can be daunting so let's look at the very basics from the angle of their purpose.
Strength and Stability
This is largely achieved by substantial frames and tyres.  As you may guess, Mountain Bikes (or 'MTB's) sit in this category.  Stability is achieved through wider handlebars as this provides greater leverage to hold on uneven ground.
Efficiency and Performance
On the whole achieved through low air resistance through rider position using narrow/drop handlebars, low rolling resistance through smooth tyres and a lightweight/flexible design.  This category is where Road Bikes feature (used to be called 'racers' when I was a lad!).
Now there's a whole range of 'names' for bikes that mix features between the two ends of the scale plus some specialist forms.  However, let's just highlight the prime ones worth knowing:
These have straight handlebars similar to a mountain bike yet frame and tyres that are much closer to that of a road bike.  They are typically the first port of call for anyone starting active commutes before potentially specialising in road or trail usage
Very useful when cycle storage is not feasible at home or work.  Partial public transport journeys are also made a little easier.  However, there is usually a price premium associated.
Increasing sales of electric bikes have driven down ownership prices.  The typical form is in the Hybrid setup, though can be applied to all other forms.  Please do discuss models with the shop or other owners, as the cheapest models can be less reliable.
Equipment
I only need a bike, right?
No! From the outset, for active commutes, the following should be on your essential purchase list:
Lights; Even if not initially intending to cycle in the dark, use them in the daytime. They increase noticeability, especially when riding amongst traffic.
Pump/patch/tube/levers; even if you don't know how to fix a flat tyre, you are joining a friendly community and should be able to flag for passing help until you learn.  Useful to buy a saddle-bag to keep them on the bike.
Mudguards; there is a real night & day difference when commuting in the rain.  Get them fitted when purchasing your bike (though hybrids often have them anyway).
Lock: do not forget this!  Please look at the 'D' or 'U' lock solid form.  The convenient flexible types are very insecure, and only really suitable if you can also keep eyes on the bike (e.g. popping for coffee).
Where can I get my bike serviced?
When starting up, expect to visit a bike shop from time to time to get your bike back to its pleasurable nearly new state.  Many shops have bike service plans to ease the costs or cycling group memberships may have servicing discounts. If you work at Wellington Place, keep an eye out for their regular free bike servicing pop-ups with Woodrup Cycles.
How to service a bike at home?
In between services though, I would highlight three simple things you can do to keep safe:
Learn the M-Check; this is a simple pass through of the bike's crucial components to check for imminent issues.  There are many videos available and often demonstrated on guided rides.
Clean your brakes; if your brakes touch the rim of the wheel, simply wipe the rims down with a clean cloth.  During winter/wet periods, this may be necessary on a near daily basis.  If your brakes use a disc, wipe those.  Whichever type of brake, always ensure the cloth is clean as oily pollutants can cause braking issues.
Oil your chain; it's actually called chain lube and even if you don't clean the chain, lubricate it.  If not, riding will become progressively harder especially after wet weather as the chain will start to rust.
Credit and thanks to Richard Warren for creating this blog. More information on cycling to Wellington Place can be found HERE. Regular cycle events can be found on Parklife our community newsletter – sign up here. Plus, join our friendly Wellington Place cyclists Facebook group to connect with other cyclists and get the most up-to-date information about our cycle news and events.