We teamed up with Zero Waste Leeds to offer you some great tips on how to manage waste at home
With many still working from home, waste reduction can be a simple step to creating a greener home environment. In this article, Zero Waste Leeds gives you 5 super simple ways to manage waste at home and explore what we can recycle in our homes.
It's important to try to reduce household waste – every year around 6.6 million tonnes of food is wasted by UK households. Of that, 70% of it could have been eaten – that's 4.5 million tonnes of food we could have saved from the bin. That's without counting waste from food packaging, clothes, plastic, and a myriad of other waste products.
The good news is a little bit of thought and planning can make a huge difference. Let's start with how to manage food waste at home…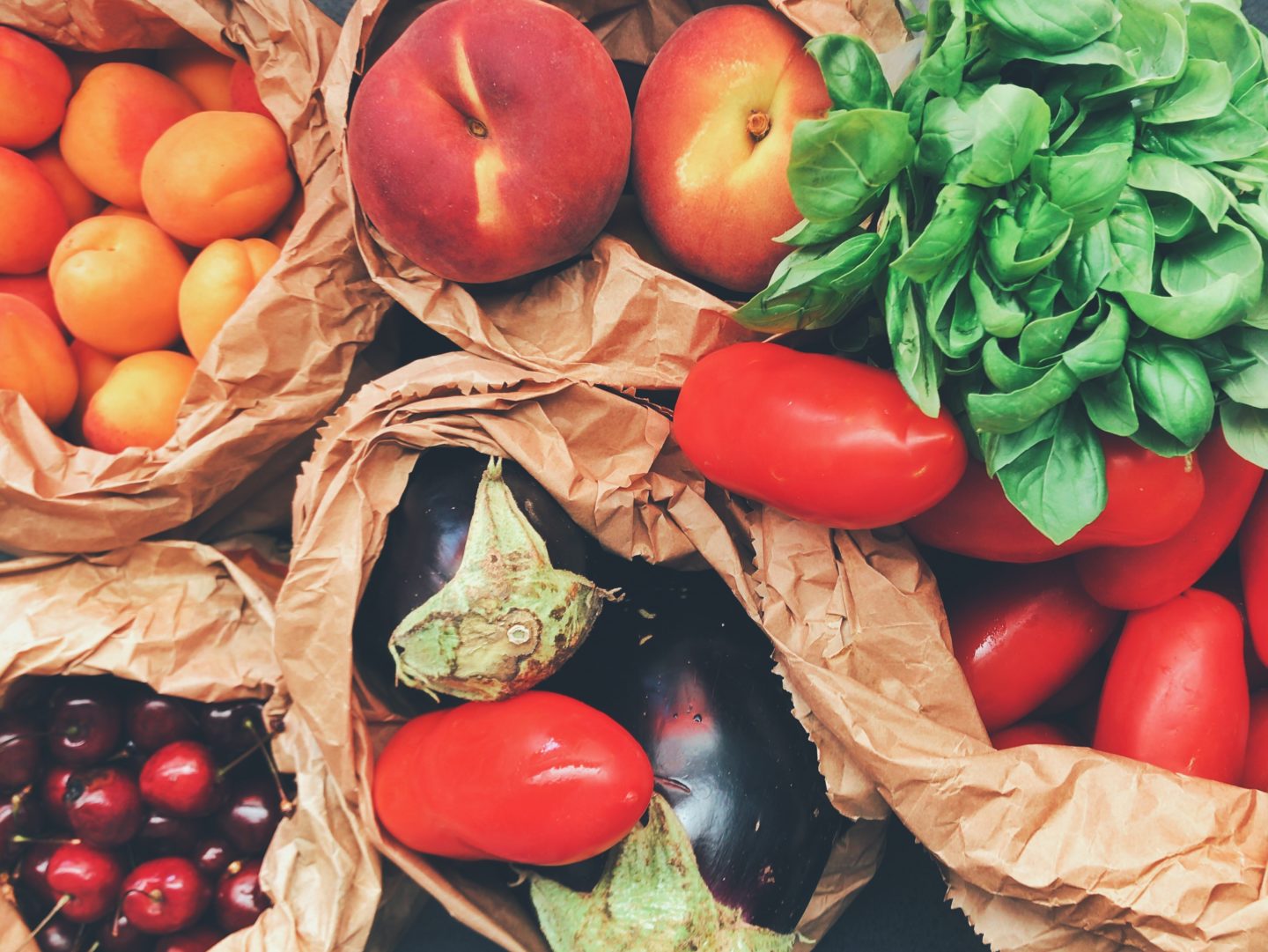 1. Come up with weekly meal plans
By jotting down your meal ideas for the week, not only are you likely to eat a more varied diet, but you will also avoid buying unnecessary food. This will help you to significantly reduce food waste, avoid the stress of deciding what's for dinner and even save some money too.
2. Freeze and preserve food
One of the easiest ways to manage food waste at home is by freezing what you don't use. Bread is one of the most thrown away food items, but it is also one of the easiest to freeze and defrost. So, if you aren't going to use the whole loaf, why not freeze the rest?
3. Create your own compost
If you have some outdoor space, why not consider making a compost heap? The lovely rich compost you will get is full of nutrients, perfect for growing fruit, vegetables or flowers. Another advantage is that once your compost heap is up and running, all types of creatures will make it their home, supporting the sustainability of certain species.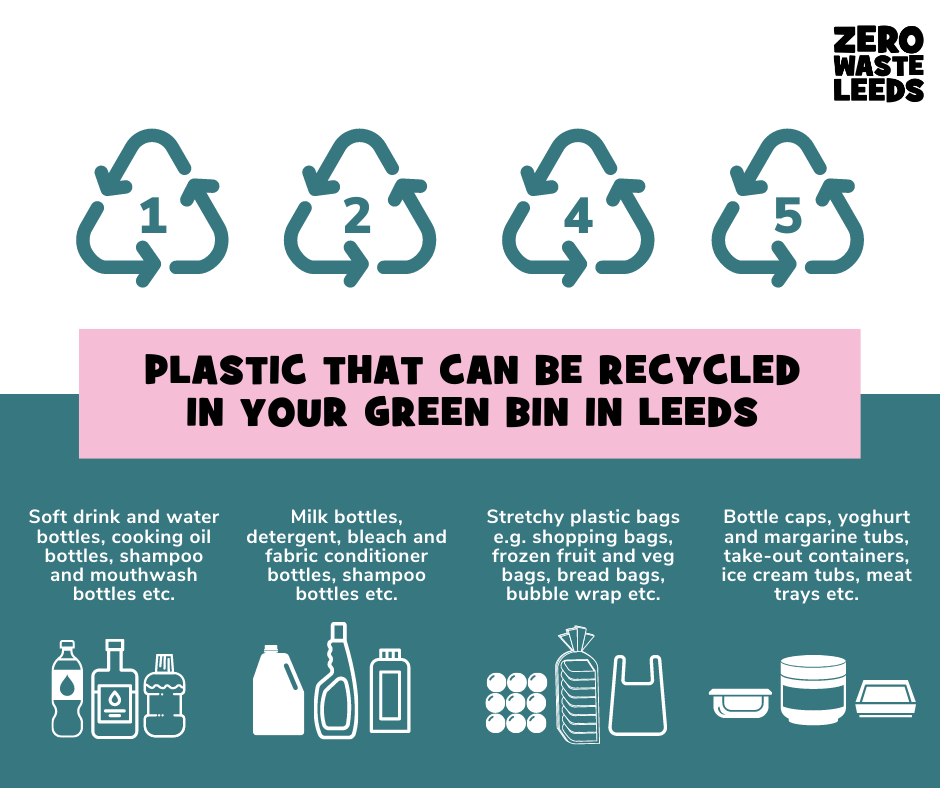 4. How to recycle waste at home
When recycling it is important to understand what can and can't be recycled in your area. In Leeds when it comes to plastics, types 1,2,4 and 5 can be recycled.
Common things that people are surprised you can recycle include bubble wrap, window envelopes, bottles with triggers and pumps (just leave them on), and "stretchy" plastic bags (such as bread bags). Glass is infinitely recyclable and with 700 glass banks in Leeds, you are never too far away! Just make sure to give it a quick rinse before you get rid of it.
Find out more on what can and can't be recycled in Leeds.
5. Avoid fast fashion or buy second-hand clothes
Around 4,000 tonnes of clothing and textiles end up in Leeds' black bins every year. When doing a wardrobe clear-out consider ways to recycle, reuse, repair and upcycle your clothes.
For the clothes you decide you no longer need, you can donate them to the textile banks, charity shops and clothes exchanges in Leeds. Remember, Wellington Place also runs regular clothes drop visits from Martin House Hospice providing a convenient way for you to donate unwanted clothes on your way into work.
Another way to reduce your clothes waste is to avoid 'fast fashion'. By doing this you will end up with a higher quality product that will last longer meaning you won't have to throw away as many clothes. Also consider shopping second-hand, as charity shops can be a great place to find high-quality second-hand clothes in styles you won't find anywhere else.
A bit more about Zero Waste Leeds…
Zero Waste Leeds was created by Rob Greenland and Gill Coupland of Social Business Brokers CIC, a social enterprise that has been working for over 10 years on creative, collaborative approaches to tackling social and environmental problems in Leeds.
Rob: "We set up Zero Waste Leeds as a local response to the growing need for us as a society to be less wasteful and more mindful of the impact of waste on our planet – from the park down the road to the huge piles that end up on the other side of the world.
At the time, Sir David Attenborough's Blue Planet II was creating a tidal wave of interest around waste, particularly plastic pollution, and igniting a real desire for change at an individual, community and business level.
We're deeply rooted in Leeds with close links to the Council, educational institutions, social enterprises, charities and business built up over many years through our various projects. We wanted to use that influence to build a mass movement to help make Leeds a zero-waste city … and so it started."
What does Zero Waste Leeds do?
Gill: "We're all at different stages of a journey when it comes to waste and broader environmental issues and we try to reflect that in everything we do by keeping things positive and accessible to all.
On a practical level, we share easy ways for people to live a more waste-free life under four main categories – recycling, food waste, garden waste and stuff (such as clothing, furniture, electrical items).
Beyond that we are commissioned to either run or partner with others on behavioural change campaigns, most recently a 10-week COVID 19/#stayathome waste reduction one for Leeds City Council during the lockdown."
How is Zero Waste Leeds changing behaviour?
Rob: "Bringing about changes in behaviour is tricky but being local, rooted in this city and connected to the many great people and organisations here gives us a big advantage.
We spend a lot of time thinking and starting conversations about people's motivation for making the choices they do and the best ways to enact positive change using the insight we gain. This includes taking part in national debates and forums about waste and sustainability, playing our part in pushing forward this agenda.
Climate change and the needs of the poorest people in our society is not going away and so we have a huge amount of work ahead of us. Our challenge now is to see how we can #buildbackbetter. We'll be using our work on #LeedsbyExample to network with small and medium-sized businesses, social enterprises, charities and community groups in Leeds.
Many of them have had to close – or really cut back on what they do. Some will be at risk of not surviving beyond the next few months.
But we know that moving towards being a zero-waste city, being mindful of our use of natural resources, and finding ways to connect with each other and live more sustainably will be more important than ever over the coming months and years. We're ready to play our part."
A big thank you to Rob and Gill for taking part in this guest blog.
To find out more about the work Zero Waste Leeds does, including upcoming campaigns, projects, how to work with them, sponsorships and for more tips, visit www.zerowasteleeds.org.uk or email Rob rob@zerowasteleeds.org.uk or Gill gill@zerowasteleeds.org.uk.